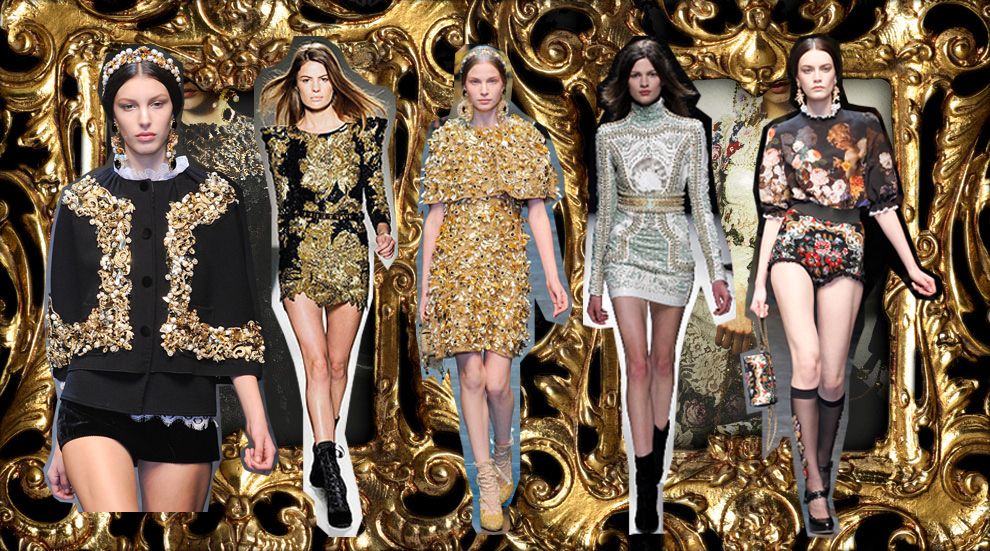 The sophisticated baroque style is making an outstanding statement in the fashion world.
Versace, Stella McCartney, Rag & Bone, Marni, Balmain, Aquilano Ronaldi, Jason Wu and Rami Al Ali are just some of the big name designers and labels that brought this time of fine art and over-indulgence to the catwalk, but it was Dolce &

Gabbana that was at the forefront of this trend.
El sofisticado estilo barroco

se ha convertido en una vistosa preferencia

en el

mundo de la moda

.



Versace

, Stella

McCartney

, Rag

& Bone

, Marni, Balmain,

Ronaldi

Aquilano

,

Jason Wu

y Rami

Al Ali

, son sólo algunos

de los diseñadores

de renombre

y etiquetas

que trajeron

esta bella arte

y

los excesos

a

la pasarela,

pero fue

Dolce &

Gabbana

que

estuvo a la vanguardia

de esta tendencia.
This holiday season (Fall/Winter 2012-2013) is the perfect time to bring in the dramatic lighting using Baroque inspiration.
This trend is all about romanticism, extravagance, and luxury. Loaded with textured fabrics, silk, velvet, brocade, jacquard and leather.
This is certainly one of my favorite trends.
Esta temporada de fiestas

(Otoño

/ Invierno

2012-2013)

es el momento

perfecto para llevar

lo

dramática

con

la

inspiración

barroca.
Esta tendencia

esta marcada con

el romanticismo

, la extravagancia

y el lujo.

Cargada con

telas

con textura,

seda

, terciopelo,

brocado

, jacquard

y cuero.



Est

a

es sin duda
un

a

de mis
tendencias favorita

del 2012.
Dolce Gabbana Sicilian Baroque | Milan Fashion Week Runway
Dolce Gabbana | Milan Fall 2012